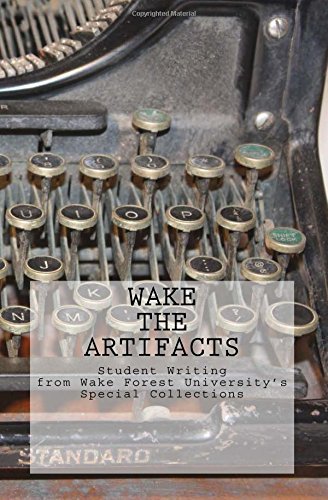 Wake the Artifacts
Wake the Artifacts: Student Writing from Wake Forest University's Special Collections has been published.
On January 29th, 2016 at 7:00 pm, a group of talented Wake Forest University students entered the Z. Smith Reynolds Library to challenge their creative abilities and participate in a writing event unlike any other.
Read more about this event in Writers Camp Wrap-Up ›
About the Camp
Funded by the Provost's Fund for Academic Innovation
The inspiration for Writers Camp @ ZSR came after a group of ZSR librarians heard Jane McGonigal present "Find the Future: The Game" during the American Library Association's 2014 Annual Conference. The ZSR Library wanted to provide an opportunity to engage students interested in writing outside of the classroom and to offer these students the opportunity to become published authors.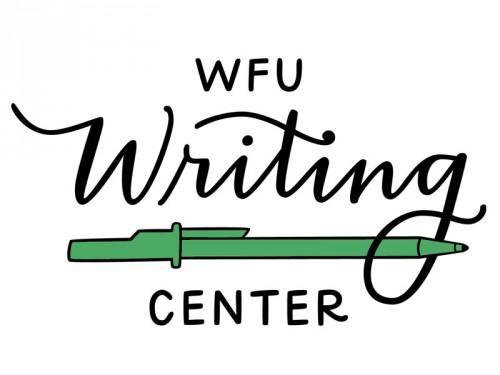 After reviewing participant applications, a group of 30-50 student authors will be selected to meet at ZSR on the evening of Friday, January 29th from 7:00 pm to Saturday, January 30th at 7:00 am and write a collection of stories (or essays or poems) that will be published in a book and cataloged with each participant listed as an author. Student authors will receive a copy of the book, and the opportunity to be part of a panel at Words Awake! 2016.
During the Summer of 2015, The Writers Camp @ ZSR committee was formed and the Writing Center was brought in to help plan, market, and lead the event scheduled for Friday, January 29th 2016.
Writers Camp @ ZSR Committee
Hu Womack – Instruction and Outreach Librarian
Ryan Shirey – Director, WFU Writing Center
Bill Kane – Director of Digital Publishing at Wake Forest University
Tanya Zanish-Belcher – Director of Special Collections & University Archivist
Kate Brooks – Executive Director of Personal and Career Development
Meghan Webb – Reference Services Coordinator
Craig Fansler – Preservation Librarian
Carolyn McCallum – Cataloging Librarian
Peyton Barr – Wake Forest Fellow
Laura Denlinger – Administrative Assistant, WFU Writing Center
Amanda Keith – Manager, Wake Forest University Press
Tom Phillips – Director, Wake Forest Scholars
Call for Applications
Calling all Wake Forest student writers, storytellers, poets, and artists! Your chance to become a published author is here! Applications are now open for the inaugural Writers Camp @ ZSR, to be held on Friday, January 29th, 2016.
Note: The call for applications is now closed.
Camp Schedule
Kick-Off
Jan. 29 at 3:00 pm
The big reveal! Professor and WFU historian, Jenny Puckett, will kick-off your writing adventure with a quick presentation about your writing process AND your artifact will be on display.  Special guest may arrive!
Writers Camp
Jan. 29 7:00 pm – Jan. 30 7:00 am
You and your fellow authors will meet at ZSR at 7:00 pm with everything you need for a binge writing session. Be prepared to stay till 7:00 am. Professor Ryan Shirey, Director of the WFU Writing Center will open the event with insider tips to make the most of your writing experience. Writing tutors from the Writing Center will be available during the event to assist you. Of course food and coffee will be available throughout the night to to keep you going. By 7:00 am, your work is done and we will close the event with a celebratory breakfast from Biscuitville, a few words of thanks and congratulations, and some gifts!
After the event all the writing will be professionally edited and then published as an eBook. Two leather-bound editions will be created by Craig Fansler in ZSR, one for Special Collections and one for the circulating collection. Students may be offered the chance to serve on a panel for a program at Words Awake 2 in April, where we would also like to make the book available.
Timeline
Oct. 19 through Nov. 13: Open Application Period: All Wake Forest students are invited to submit online applications and writing samples for review.
Nov. 30: Student Author Selection: Student authors will be notified of their acceptance. You will begin receiving regular updates from the committee to prepare you for the January event, including your mystery artifact from the history of Wake Forest that will serve as your writing prompt. All will be revealed in your letter of acceptance.
Student Authors
Savannah Baber
Madeline Baxter
Kari Burgess
Amy Leigh Burris
Leo Capobianco Jr.
Natalie Casimir
Ziwei Chen
Sara Coronel
Benjamin Covington
Alex Dean
Sean Dougherty
James Falese
Nate Folger
Laura Garland
Emily Goodman
Hannah Goodwin
Karringtan Harris
Matthew Harty
Leah Haynes
Lena Hooker
Katie Huggins
Jessica Hung
Ashley Laughlin
Maya Marks
Maggi McCann
Erin E. McKee
William Morgan
Jack Olsen
Thomas Poston
Yunyi Rong
Peter Schlachte
Matt Schlosser
Rachel Schwam
Victoria Simmonds
Rachel Stewart
Zachary Thomas
Elizabeth Waid
Weiji (Ji) Wang
ZSR Library Thanks You
The Z. Smith Reynolds Library would like to recognize everyone who made this event possible!
The Writers Camp Committee
Hubert Womack (Chair)
Tanya Zanish-Belcher
Carolyn McCallum
Meghan Webb
Peyton Barr
Craig Fansler
Ryan Shirey
Laura Denlinger
William P. Kane
Amanda Keith
Kate Brooks
Tom Phillips
Library Partners Press
Wake Forest University Press
Z. Smith Reynolds Library Special Collections
Tanya Zanish-Belcher
Craig Fansler
The Writing Center
Ryan Shirey
Laura Denlinger
The WFU Office of Personal and Career Development (OPCD)
The WFU Office of the Provost
The Overnight Staff
Peyton Barr
Mary Beth Lock
Carolyn McCallum
Hubert Womack
The Vendors who donated items to the event
Sage/CQ Press
Palgrave MacMillan
Thomson Reuters
JSTOR
ExLibris
And special thanks to ZSR Library Dean Tim Pyatt, and Professor Jenny Puckett our keynote speaker. Thanks to Kevin Gilbertson for designing our logo, and Rosalind Tedford and Mary Beth Lock for procuring vendor donations, Rebecca Peterson for all her work arranging the artifacts and the keynote event, and our wonderful copy editor, Chad Harris!
And finally, thanks to author Jane McGonigal, whose "Find the Future" project inspired this event.