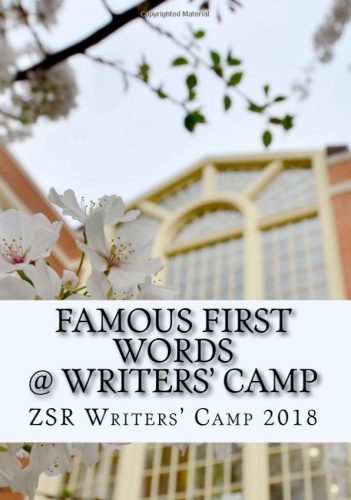 Famous First Words @ Writers' Camp
Famous First Words @ Writers' Camp 2018 has been published.
On Friday, February 9th 2018, at 7:30 pm, a group of talented Wake Forest University students entered the Z. Smith Reynolds Library, challenging their creative abilities and participating in a writing event unlike any other!
About the Camp
Funded by the Z. Smith Reynolds Library, the WFU Writing Center, OPCD, and THRIVE
The inspiration for Writers Camp @ ZSR came after a group of ZSR librarians heard Jane McGonigal present "Find the Future: The Game" during the American Library Association's 2014 Annual Conference. The ZSR Library wanted to provide an opportunity to engage students interested in writing outside of the classroom and to offer these students the opportunity to become published authors.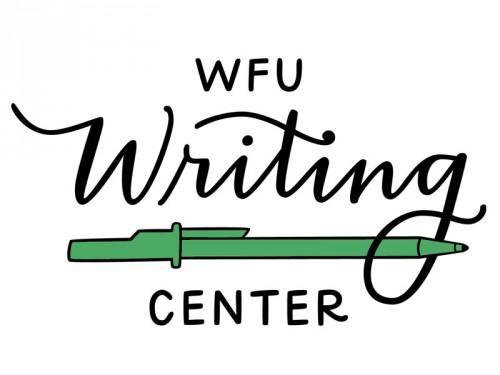 After reviewing participant applications, a group of 30-50 student authors will be selected to meet at ZSR on the evening of Friday, February 9th from 7:30 pm to Saturday, February 10th at 7:00 am and write a collection of stories (or essays or poems) that will be copy edited by WFU graduate students, published in a book and cataloged. Each participant will be listed as an author and will receive a copy of the book.
During the Summer of 2017, The Writers Camp @ ZSR committee was formed and the Writing Center was brought in to help plan, market, and lead the event scheduled for Friday, February 9th 2018. If you want to know more about our most recent Writers' Camp, you can read a recap of the event by one of our student authors in the Old Gold and Black, our student newspaper.
Writers Camp @ ZSR Committee
Hu Womack – Instruction and Outreach Librarian
Ryan Shirey – Director, WFU Writing Center
Bill Kane – Director of Digital Publishing at Wake Forest University
Tanya Zanish-Belcher – Director of Special Collections & University Archivist
Jessica Long – Assistant Director of Career Education and Coaching
Meghan Webb – Instruction and Outreach Librarian
Craig Fansler – Preservation Librarian
Carolyn McCallum – Cataloging Librarian
Maggi McCann – Student Representative
Laura Denlinger – Administrative Assistant, WFU Writing Center
Amanda Keith – Manager, Wake Forest University Press
Camp Schedule
Writers Camp
Feb. 9 7:30 pm – Feb. 10 7:00 am
You and your fellow authors will meet at ZSR at 7:30 pm with everything you need for a binge writing session. Be prepared to stay till 7:00 am. Professor Ryan Shirey, Director of the WFU Writing Center will open the event with insider tips to make the most of your writing experience. Writing tutors from the Writing Center will be available during the event to assist you. Of course food and coffee will be available throughout the night to to keep you going, with pizza at midnight. By 7:00 am, your work is done and we will close the event with a celebratory breakfast from Biscuitville, a few words of thanks and congratulations, and some gifts!
After the event all the writing will be professionally edited and then published as an eBook. Two editions will be created by Craig Fansler in ZSR, one for Special Collections and one for the circulating collection.
Timeline
Oct. 16 through Nov. 13: Open Application Period: All Wake Forest students are invited to submit online applications and writing samples for review.
Nov. 30: Student Author Selection: Student authors will be notified of their acceptance via email. Students will begin receiving regular updates from the committee in preparation for the event.
Camp Authors